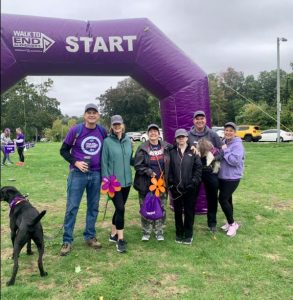 It was a blustery day on Sunday, October 3rd when we gathered to participate in the annual Walk to End Alzheimer's. Thanks to our clients, colleagues, friends and staff for being part of our efforts on behalf of the 2022 Walk to End Alzheimer's.
If you missed it, look for our activity next year. We gather a team every year to support this cause which is close to our hearts.
Pictured here are some members of this year's MSW team from our walk at Roger Williams Park.
Held around the nation, the Alzheimer's Association Walk to End Alzheimer's® is the world's largest event to raise awareness and funds for Alzheimer's care, support and research.